It was sooo nice that Travis and I both had the weekend off. It's been quite a rarity for the past year. I have three more days of work, and then I will be done. It's a bad time to quit~with the holidays coming and me cutting our income, but I'm really beginning to waddle and after 5-6 hours of walking and standing, even a baby that's only 6 months along can begin to feel very heavy. The three days that I work are not until next week. I was so upset when I found out I have to work on Halloween. The Ward Trunk or Treat is that night. But, I think that if the party goes as planned and on time, we will have enough time to party and then get me to work. Travis has a plan for this night. He's going to allow the kids 5 pieces of candy and then the buckets will go out to the garage until I get home, cause those kids are sneaky and he doesn't want anyone puking cause they snuck in the junkfood.
Saturday I made a potato salad, (cause i was really craving one~with LOTS of onions!) and stuck a roast in the crockpot over night. Then we took it over to Travis's parents house and had lunch there. We watched lots of college football and just had a nice time. The kids love going over to their grandparents. They played in the back yard and got very muddy. Travis and I took advantage of his mom and ran out to the bookstore just to browse and have an hour together. I think we get that about once every 6-8 months, so we were very excited. Of course, after an hour we can't get home quick enough to see the kids. We browsed the US History section forever, making a list of every book we would love to someday own. I really wanted "Southern Storm" a book about Sherman, but it was full price. We were there just to browse. Then, I found this book...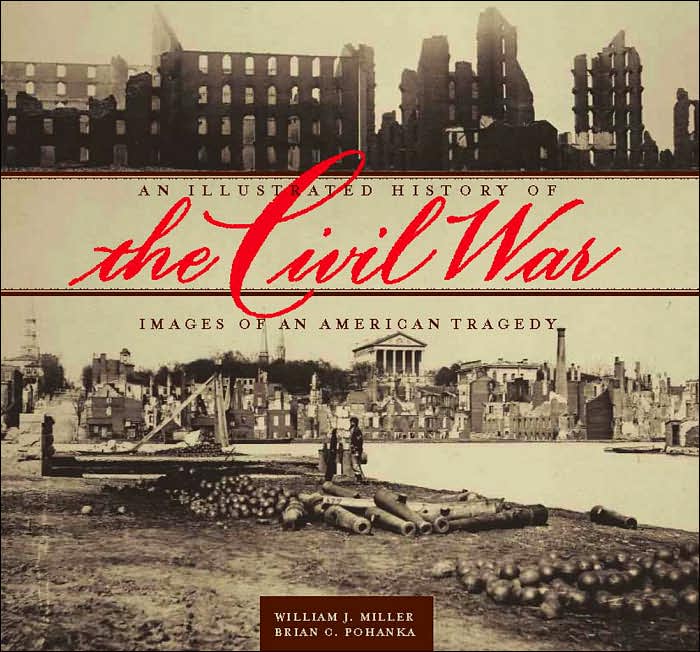 It's 454 pages of pictures from the war and I got it off the clearance rack!!! That was our treat instead of going to McDonalds or something like that. It's a huge book. Weighs a billion pounds. So, Saturday night we read through the Sunday School lesson for Sunday, read some from our "Gettysburg" book, looked at this new book, and then topped the night off by watching the movie, "Gettysburg". Yes, I know, we have a bit of an addiction, but hey, it's better than drinking or smoking, right?
Sunday we went to church. Travis had to teach Priesthood~last minute. The teacher didn't come because he was sick. We had read through the lesson the night before so he was fairly prepared. He's a good teacher, so I think it went well. I got to go to Relief Society! I think they are going to do it twice a year, but they let some of the teachers out of Primary to go sit with the grown ups. It was nice. I only missed sharing time. I hope my class was good. It was nice being able to be with the older people. I really miss that sometimes. As for the rest of Sunday, we just hung out together, took a nap, read to each other and just had a nice relaxing day.
Now, if I may, just for a moment ask a question that I know is going through everyones minds...What the heck has happened to Washington's sports???? Washington State football-STINKS! University of Washington football-STINKS! Mariner baseball-STINKS! And my precious dear sweet wonderful Seahawks---STINKS!!! I am so sad about all of this. Remember when we were winning the Rosebowl? Remember when we were making the playoffs? Remember when we went to the stinking Superbowl? Hello? What happened? I'm most sad about my Hawks. I suppose Holmgren should have just retired. But that wouldn't have stopped all our guys from getting injured. I don't know. I just hope they can get it together soon. Give the coach a good retirement sendoff in the end.
That's all I have to say. Nice long post mostly about nothing, but I didn't think you would want to hear about my adventures of cleaning around the toilet. (o: